What's ActiveImage Protector™ 2022?
ActiveImage Protector is an enterprise-level backup and disaster recovery solution that supports both physical and virtual (Hyper-V/VMware), Windows/Linux, On-Premise/Cloud environments. ActiveImage Protector is the fastest and most powerful data protection solutions on the market, and provides all the necessary tools for enterprise deployment and management, immediate system recovery, switch-over availability, and virtual migration.
ActiveImage Protector 2022 Virtual Edition allows you to backup virtual environments, with or without agent (agentless or agent-based backups).
Image based backup for virtual environments

ActiveImage Protector™ Virtual Edition is an image based backup and recovery solution for virtual environments that includes "HyperAgent" our agentless backup technology. ActiveImage Protector™ backs up your entire machine, including the OS, settings, data files and applications, and access rights into a single image file. When disaster strikes, select a backup image to quickly restore for a fast and complete recovery.

Direct-To-Cloud Backup

Backup systems directly to cloud storage. Supported public cloud storage services include Amazon S3 and Microsoft Azure as backup destinations. In addition, Direct-To-Cloud Backup also supports SFTP servers as backup destinations.

Agent-based or Agentless Backup is available

Supports both agent-based and agentless backup. HyperAgent backs up virtual infrastructures without the need to install backup software on either the host or guest machines, minimizing system resource consumption.

File Backup

A new file backup option providing granular point-in-time backup and restore of specific files and folders.

LTO tape support

Support for LTO as a backup destination. Backup data saved on tape can be physically isolated from ransomware attacks and ensures long-term archival stability.

CBC (Changed Block Comparison™) Technology

Actiphy's proprietary Changed Block Comparison™ (CBC) technology comprehensively analyzes a volume's file system and identifies changed blocks that need to be backed up. CBC is an installed program rather than a filter driver. A system restart is not required upon the installation or update of the program.

Save storage space with IDDC

Our Inline Data Deduplication Compression (IDDC) feature eliminates duplicate data while simultaneously compressing it, resulting in a significant reduction in backup storage requirements. An included advanced option, IDDC has no impact on backup processing time. No additional deduplication hardware or software purchase is necessary.

Bootability check by BootCheck™ 

BootCheck™ provides confidence that your backup images are bootable on local or remote Hyper-V host. BootCheck™ boots up a virtual machine directly from a backup image file for quick bootability check, minimizing the resource consumption and start-up time. You can manually select ActiveImage Protector™ backup image for bootability check from the console at any timing.

Image Target Server

ActiveImage Protector™ utilizes iSCSI to serve backup iSCSI targets to any local or remote iSCSI initiator for mounting Utilize iSCSI targets and NFS exports to emulate backup images as virtual disk files for flexible and immediate recovery or migration.

Boot backup images instantly using HyperBoot™

Using our real-time virtual conversion technology, HyperBoot bypasses the lengthy, resource intensive, and cumbersome physical to virtual conversion process, and boots the backup as a virtual machine in minimal time. Changes made while running the virtual machine from a backup are saved as differential files. A proverbial "Spare Wheel" for recovery, migration testing, repair, or upgrading prior to actual deployment.

Flexible virtual environment licensing

3 Editions for more flexibility:

Virtual Unlimited: Unlimited Windows and Linux VMs on a same host + Host backup

Virtual 3 VM: Up to 3 WIndows or Linux VMs, host agnostic.

Virtual 1 VM: One Windows or Linux virtual machine.

Web-based backup monitoring

Actively monitor backup tasks of all your machines from anywhere and at any time with free Actiphy Portal Service (APS). Request your free access here.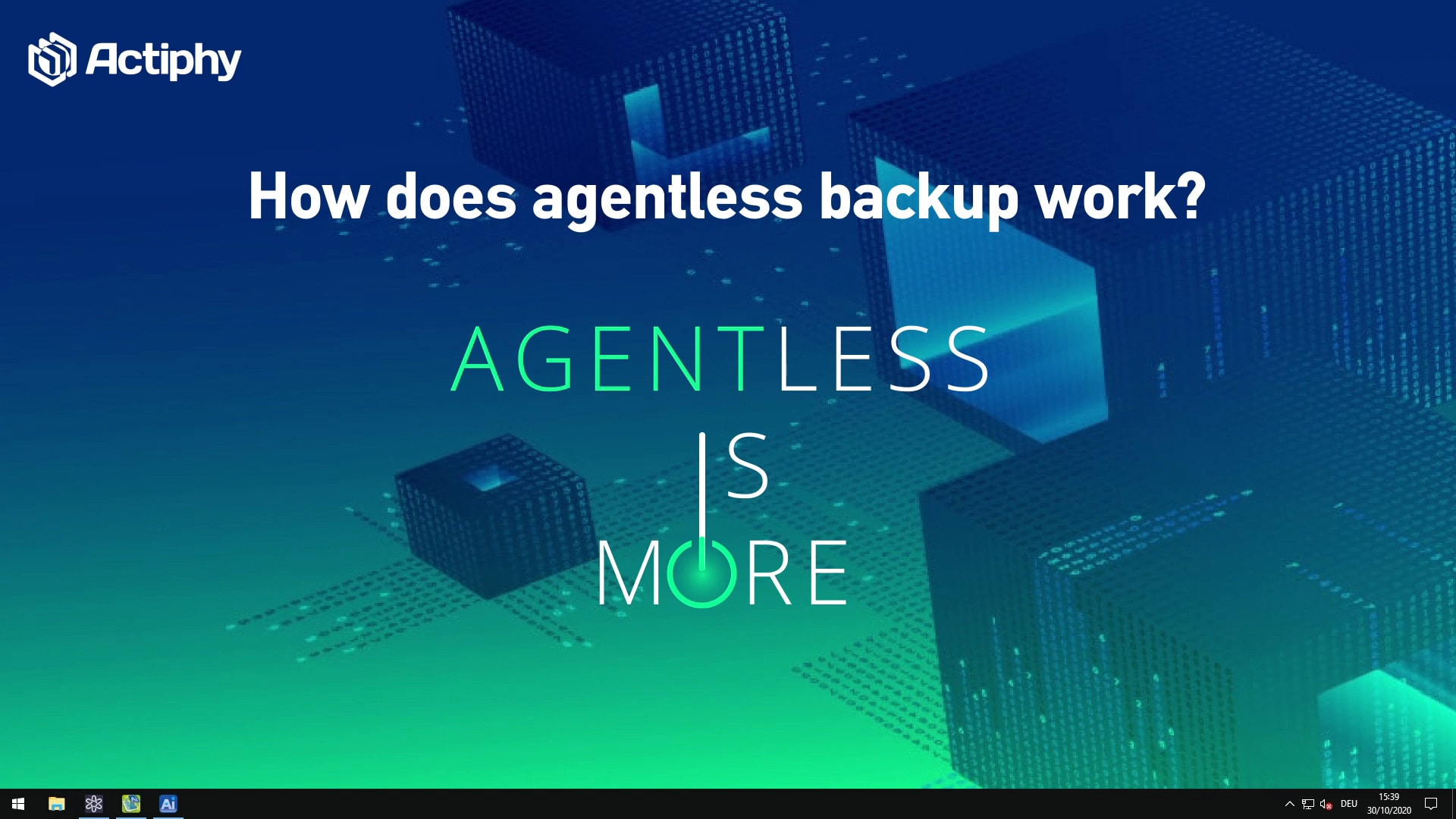 How ActiveImage Protector Virtual HyperAgent works